Adams Woodcrest Nursing Care
Our employees are a dedicated team of professionals who strive to meet the needs of residents from spiritual, social, physical and medical perspectives. Our team cares for residents as they would their own loved family members.
Residents are screened by on-site therapists to determine if they may benefit from therapy or a restorative program. We provide professional nursing care 24 hours a day, with physical, occupational and speech therapy available six days a week. Our activities and restorative staff also work together to provide regular physical exercise for our residents. Our goal is to keep our residents active.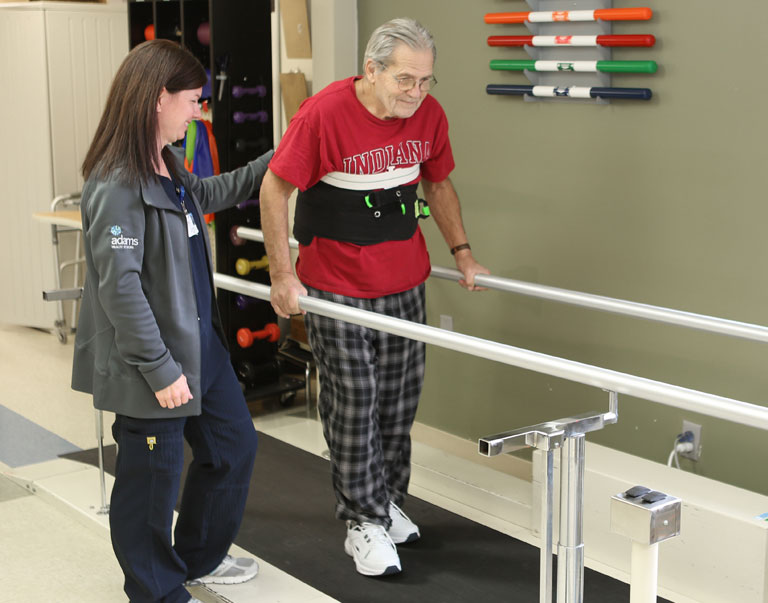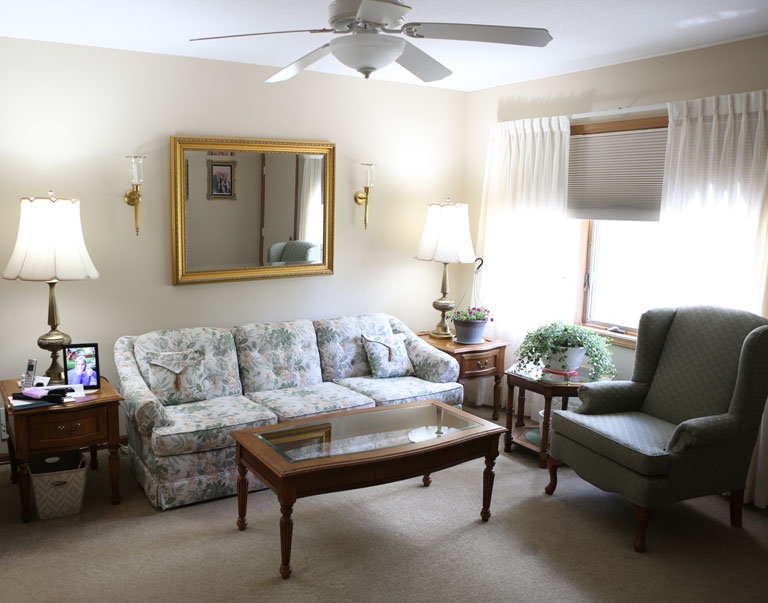 Residents and families are pleasantly surprised with the spacious rooms, warm colors and recreational areas that provide the resident a more "home-like" atmosphere. We are especially pleased with the bathing areas that have been structured not only for complete individual privacy but feature whirlpool baths as well as special grooming areas. They have been designed to take the residents from bed to bath with dignity.
The residents enjoy a full schedule of activities held seven days a week. Activities include bingo, happy hour, musical entertainment and monthly parties. There are scheduled or requested one-to-one activities for those who are not able or choose not to participate in group activities. Woodcrest has a chaplain on staff offering bible studies and pastoral counseling. Church services are provided several times a week by various local churches.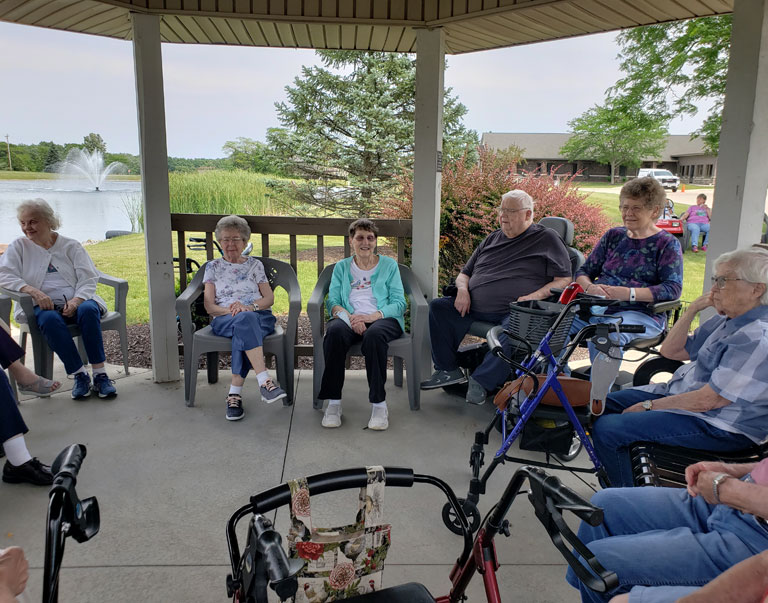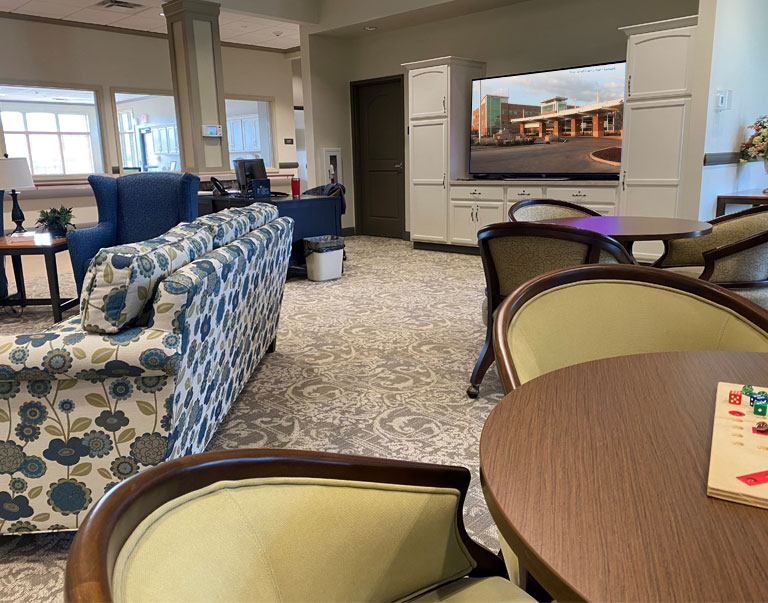 We will work with residents and families to accommodate open visitation times from 8 a.m. to 8 p.m. These hours are flexible but are set to respect the rights of residents in order to provide quiet/private time for sleep and personal needs. The facility reserves the right to impose restrictions on visitations to protect the rights and safety of other residents in the facility.
We also provide a unique dining program, special recreational programs, beautician/barber services, dedicated nurse practitioners on-site and physician-directed nursing care. Woodcrest is Medicare/Medicaid certified.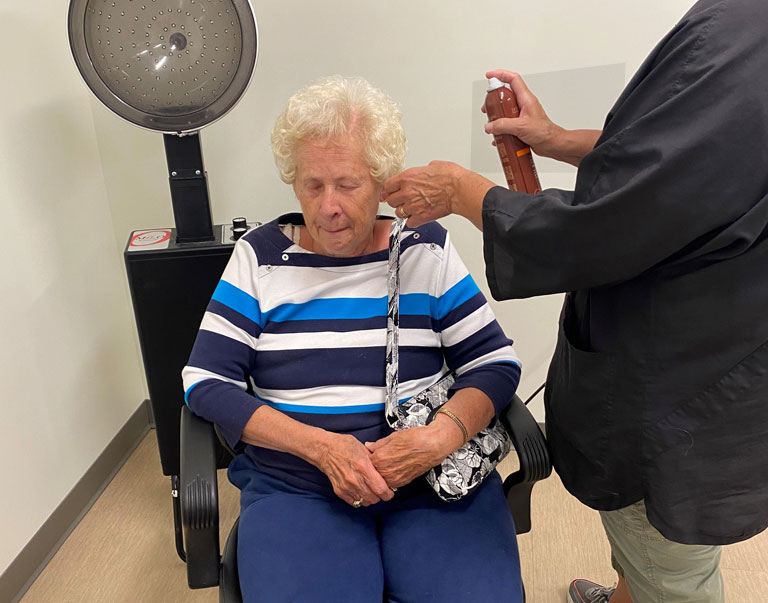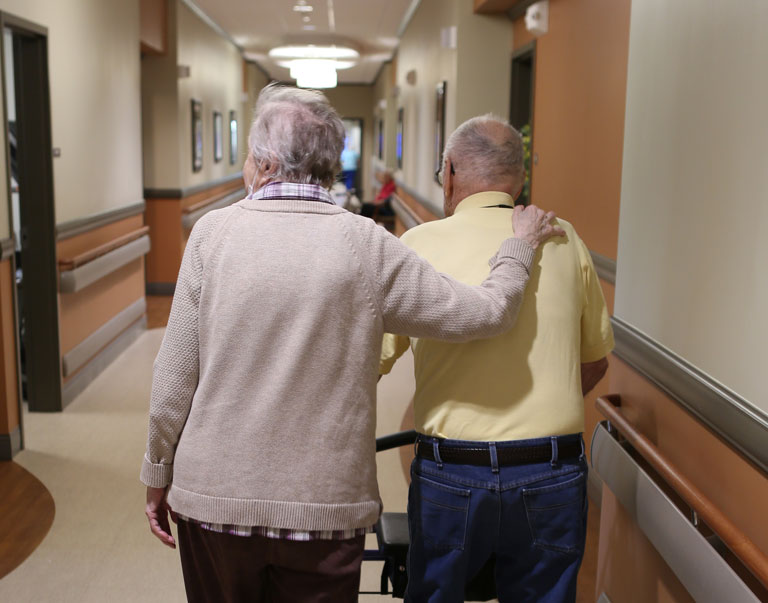 Adams Woodcrest Nursing Center offers exceptional care for those who cannot be safely cared for in their home environment. Residents can come and go with appropriate supervision. For example, lunch or dinner with family members at home or attending weddings or graduations with family. Many residents remain involved in the community and in their family activities.
Services
Person-centered approach to care
Life enrichment
Pharmaceutical services
Resident-centered social and educational activities
Hospice and respite care
24-Hour emergency response
One-on-one restorative therapy sessions
In-house therapy team from Adams Memorial Hospital providing PT, OT, & Speech Therapy six days a week
Individualized person-centered care
Dedicated Nurse Practitioner on-site
Amenities
Comfortable home environment
Household model
Private & semi-private suites
Outdoor courtyards & walking paths
Cable, Wi-Fi and bistro
State-of-the-art response system
Deficiency free State Board of Health surveys
Staff who enjoy working with individuals and groups to pursue their hobbies and interests
Staff also provides personal care that focuses on helping residents with activities of daily living, such as:
Bathing
Eating
Dressing
Incontinence
Personal hygiene
Maneuvering in and out of bed and/or walking
Nursing Center Floor Plans
Schedule A Tour
Explore life at Adams Woodcrest. Our continuing care retirement community offers a full spectrum of living options, from independent living to assisted living to nursing and memory care. Please contact us to schedule a tour of your local retirement community, Adams Woodcrest.