Assisted Living That Puts You First
Rise and eat breakfast when you want. Find solitude in your apartment or on a walk in our walking path or gardens. Enjoy the company of friends and family. Nurture your talents. Learn a new hobby. Adams Woodcrest Assisted Living is home. We hope you will make it your home.
For seniors who need assisted living, there is no other choice like Adams Woodcrest Assisted Living. As first in the region, our households give you the opportunity to mingle and make friends or retreat into the privacy of your own personal apartment, a home within a home.
At Adams Woodcrest Assisted Living, you set the rhythm of the day depending on your own preferences. We know that what is routine for one person is not the same for the next person. The ability to live your life, as you have known it, will continue with the support of our experienced and attentive staff. Explore the options Adams Woodcrest Assisted Living has to offer.
It Makes A Difference Where You Call Home
We have a setting that is perfect for every senior. Some of us are more social than others and others like to be tucked away from the hustle and bustle. Regardless, our views are inviting, invigorating and offer exquisite landscapes where every place is a reminder of home.
Exquisite Views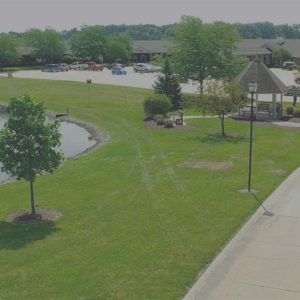 Our Main Street view provides a feel of being a part of everyday activities. This is the place for you if you enjoy being around others.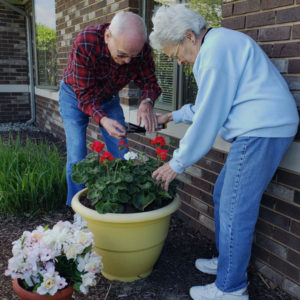 Our Courtyard is nestled between the Forest and Main Street units and offer residents a beautiful view and easy access to the great outdoors. If you enjoy walking outside, gardening or just sitting quietly under a pergola enjoying the gardens and view, the Courtyard might be perfect for you.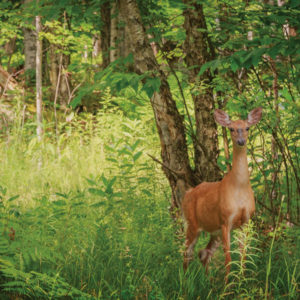 Woodcrest Assisted Living is situated in a country setting, and nothing gets you closer to the country than a serene forest. Our wooded areas are full of wildlife, seasonal flowers and beautiful sights. With paved paths that weave through the woods, you are only a few steps away from nature.
The Heart of the Home
We offer a home-like kitchen with staff always available to prepare your meal the way you want it. You may eat in the household kitchen at any time of the day or night or dine in your apartment if you prefer. Every day, you can choose from an array of homemade snacks and meals. Our Bistro also offers an opportunity for residents to enjoy a snack with friends or family. A cup of hot coffee is available whenever you want it.
Household Services
Person-centered approach to care
Medication reminders
Three meals per day
Menu choices & times tailored to your liking
Life enrichment
Laundry & housekeeping services
Transitional apartment available
24-hour Emergency Response
Household Amenities
Welcome your guests in the household family room with fireplace & our Bistro
Household model
Community Room for family or friends to gather
Staff who enjoy working with individuals and groups to pursue their hobbies and interests
Salon available on-site
Transportation available
State-of-the-art response system
Enjoy the baby grand piano
Vibrant Living
Each household model at Adams Woodcrest Assisted Living is staffed by a highly skilled team committed to assuring residents all the freedom of natural daily living, embracing both privacy and rich social opportunities. Rather than hosting traditional "activities," daily life and pleasures unfold around the residents' interests, whether that be music or sports, entertainment or exercise, social events or quiet evenings with friends.
Truly Unique in Every Way
The physical design and the underlying philosophy work together to make Adams Woodcrest Assisted Living a truly charming place to live. Each household has its own unique theme and style, creating an overall feeling of family and home.
Virtual Tour
Schedule A Tour
Explore life at Adams Woodcrest. Our continuing care retirement community offers a full spectrum of living options, from independent living to assisted living to nursing and memory care. Please contact us to schedule a tour of your local retirement community, Adams Woodcrest.