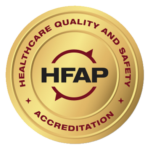 Located approximately one quarter mile away and connected via the walking trails, Adams Memorial Hospital serves Decatur and outlying communities with a variety of health care services.
At Adams, we offer compassionate care and state-of-the-art technology with a personal touch that sets us apart. Adams Memorial Hospital is a 25-bed critical access hospital, accredited by the Healthcare Facilities Accreditation Program. Our growing team is known for going the extra mile to make sure our patients and families are made to feel as comfortable and cared for as possible when they find themselves in need of our services. We have been a cornerstone in Adams County and the surrounding area since 1923 bringing healing, health and wellness to our community for nearly a century.
We strive to bring quality, comprehensive care, with cutting-edge treatment options and accessibility to all. We are continually growing with new services and physicians. In recent years, we have added many new specialty services including OB-GYN, orthopedics, pediatrics, interventional spine and pain management, regenerative medicine, neurology, internal medicine, weight management, and pulmonology and sleep medicine. Our team will continue to treat you like family, and we look forward to bringing health and hope to our community for another hundred years.
Location
Adams Memorial Hospital
1100 Mercer Avenue
Decatur, IN 46733
MISSION
To serve with compassion and excellence.
VISION
To remain independent and be the trusted health care provider for our community.

VALUES
Our values are summarized in the acronym "SERVE":